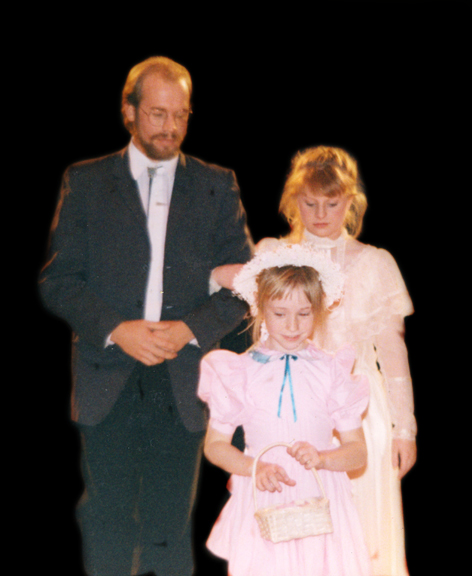 Jason Valliers as Howie Newsome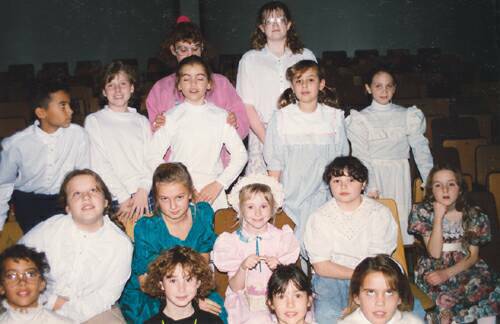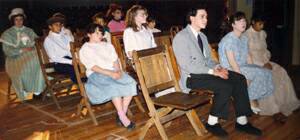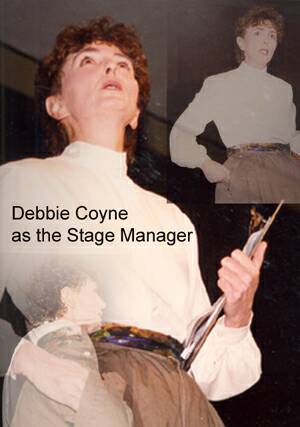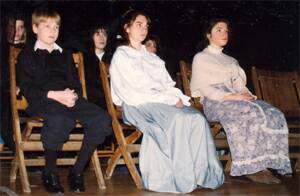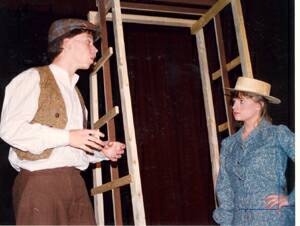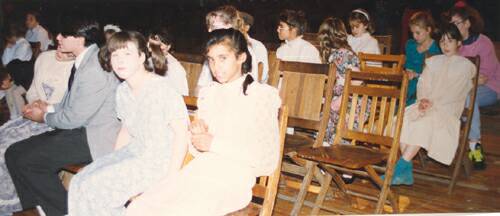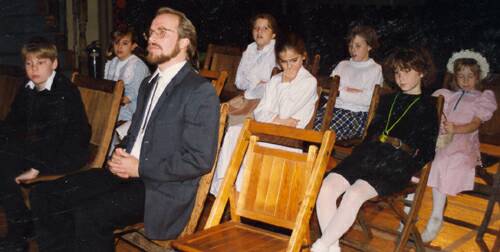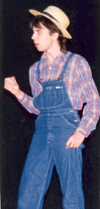 N. County schools assist in 'Our Town'

From The North Adams Transcript – November 18, 1992

No ovation, no curtain call

By Michael  I. Cohen

NORTH ADAMS - There will be no curtain calls, no ovations for

the cast members of the Drury Drama Team production of "Our

Town" - and that's exactly the way the drama team wants it. .

"The end of this play is such an intense emotional moment, a moment

of awe, that we decided to not have a curtain call," said Dr, Len,

Radin, director of the play and adviser of the drama team,

Radin said the applause and curtain calls would disrupt the moment,

and he and the cast would rather let the audience sit in silence and contemplate

the ideas of the play. "There is an intense dramatic

quality that I think will be uplifting to the audience," Radin said.

"Our Town," by Thornton Wilder, is a Pulitzer Prize-winning

play about life and death in Grover's Corners, a small, typical New Eng-

! land town, The Drury Drama Team will present "Our Town" this Thursday,

Friday and Saturday nights at 7 o'clock at the high school Admission

is $2 for students and $4 for adults. Tickets may be purchased at

the door.

"This is the fifth year of the drama program and this is probably the

biggest play ever staged at Drury High School," Radin said.

Some 82 people are at work on the cast and crew of the production. Students

drawn from' around North County including all three city elementary

schools. The Silvio O. Conte Middle school and Drury' High

School, as well as students from Charles H. McCann Technical

School and the Clarksburg and Williamstown Elementary Schools.

"We even have a faculty member and a student from North Adams

State College in the cast this time," Radin said.

Radin, who volunteers his time to coordinate the drama program, and

teach a for-credit drama course at the high school, said the "Our Town"

production caps a five-year effort to build a full-fledged drama program

at the high schooL ..In this production will be the premiere of a lot of new materials, a

lot of heavy equipment that's not romantic, but is necessary for a major

production." Radin said. The drama team received a grant

from the LaFesta Partners With Education Program, and a state grant

through the Northern Berkshire Arts Lottery CounciL With the grant

funds and money raised from the community, the drama team bought

equipment such as professional stage lighting and an electronic control

system, a set of structural supports that allow for a "thrust" or a temporary

extension of the stage and other production items. '

The improvements and equipment are now part of the permanent Drury

drama program, which will enhance the production values "for years to

come, " Radin said. . As for the play at hand, Radin said

North County audiences are ill for a treat. 

  I am extremely proud of the kids. They're doing a great job." Radin said.

"My background is in professional theatre. Nobody ever told me what a

high school production is supposed to be in terms of what the upper level

of competence is supposed to be. I'm putting on a play, not a high school play."

Often produced, yet most difficult to do well

Drury Drama Team presents

Wilder's classic, Our Town

by Sarah Gillooly, '94

The Devil's Advocate

Drury will be treated to a classic drama about life in the small village of

Grovers Comers, New Hampshire. The Drury Drama Team will present

Thornton Wilder's Our Town on November 19, 20, and 21 at 7:00 p.m.

Tickets are $2.

Wilder's play, a three act Pulitzer Prize winning drama. depicts life in a

typical American small town around the turn of the last century.

Life in a small town: what's the big deal about that? Anyone who is a native

to this area can answer that question. As in North Adams and it's surrounding

communities, nothing extraordinary happens. But that's just the point. As you

watch the play, you see that such things as the sun setting, the moon shining, or

the flowers blooming are important. Wilder wanted people to know that

it's not until after you're dead that you would see how you took your life for

granted. Wilder believed that people didn't appreciate life well enough

while they were alive and never realized this until it was too late.

Getting this message .out to an audience takes a lot of dedication.

Long rehearsals have been normal for the cast.

Director and Drury drama teacher Dr. Len Radin said, "Our Town is one

of the most common of all high school plays, yet the most difficult" It is so

difficult because of the subtle nature of the theme. A lot of time, effort, and

talent will be needed to keep the audience interested and at the same

time carry out Wilder's intended theme.

Freshman Tim Mangun said, "It takes a lot of hard work, but the play is

well worth it." Rehearsals until 6:30 at night or later are typical, and as

sophomore Sheri Pikul adds,"A person must be completely dedicated and have

lots of patience in order to survive Doc."

Major roles include Mrs. Coyne as the stage manager, Tiffany Wilson as

Emily Webb, Sean Horan, a N.A.S.C. actor as Mr. Webb, and Caroline Green

as Mrs. Webb. Also playing important roles are Jason Laforest as George Gibbs, Sheri

Pikul as Mrs. Gibbs, and Tim Mangun as Mr. Gibbs.

The rest of the cast includes students from Drury, McCann and the

North Adams Middle School and elementary schools.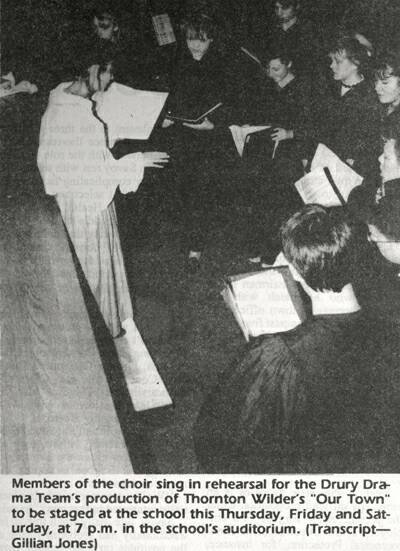 Stage Manager

Dr. Gibbs

Joe Crowell

Howie Newsome

Mrs. Gibbs

Mrs. Webb

George Gibbs

Rebecca Gibbs

Wally Webb

Emily Webb

Professor Willard

Mr. Webb

1st person in house

2nd person in house

3rd person in house

Simon Stimpson

Mrs. Soames

Constable Warren

Si Crowell

Baseball Player 1

Baseball Player 2

Sam Craig

Joe Stoddard

Asst. Stage Manager I

Asst. Stage Manager 2

Debbie Coyne (Drury Faculty)

Tim Mangun

Andrew Elder (Conte)

Jason Valliers

Sherry Pikul

Caroline Green

Jason LaForest

Ashley Wilcox

Brett Bullett

Tiffany Wilson

Nikolai Rudd

Sean W. Horgan (NASC)

Melisa St. Jacques

Terry O'Flynn

Arny Remillard

Julieanne Brazeau

Allison Rennell

Sherri White

Melisa St. Jacques

Arnie Groves

Melisa St. Jacques

Gloria Tower

Theresa Thomas

Kelli Butler

Jennifer Blackmer

to be announced by Julieanne Brazeau

Rebecca Cairns

Meghan Merrigan

Carrie Choquette

Travis Pinsonnault

Chelsea Crowley

Erica Rock

Geoffrey Deschamps

Stephanie Sebastino

Erin Kut

Jodi Witherell

Dave Lewis

The Dead

Joy Davis

Karl Shennan

Katie little


Nathan Tatro
Matthew Champrey  Alaequah Metter

Jill Miner                 Bryce Cohen

Kim Cormier            April Pitroff

Marlnda Righter       Heather Cyr

Cleo Deschamps      Jocelyn Rock

Sarah Sanchez        Jocelyn Deschamps

Michael Hosier         Jennifer Tatro

Kristen Wick            Jessica Keiser

Kate Labendz           Karl Zwiercan

Chelsea Crosby        Nathan Hosier

(members of the McCann Drama Team)

Angela Howland       Sharon Serre

Heather Traversa      Mackenzie Zwiercan

The Drury Drama Team welcomes students from the following schools to its cast:

Sullivan, Conte, McCann, Williamstown, Greylock, Carksburg and North Adams

State College.

Cast members from McCann High School are members of the McCann Drama

Team, directed by Terry Flynn.

Asst. Tech Director

2nd asst.

Asst. Stage Manager

Asst. Stage Manager

Stage Hand

Administrative Asst.

Lighting Technician

Crew Captain

House Manager

Make-up

Hair

Graphics

Program

Ticket Sales

Sound Effects

Cast Party

Costumes Asst.

Ad Sales

Biographer

Consultant (construction)

Consultant

Consultant

Consultant

Consultant (costume

Chorus

Sarah Gillooly

Dave Ciempa

Kelli Butler

Jennifer Blackmer

Cheryl Vaughan

Kelly Horn

Mary Sawyer

Russell Bedard

Kelli Butler

Sherry Pikul

Dayle Bechta

Leon Peters (NASC)

Tiffany Wilson

Jason Vallieres

Caroline Green

Jason LaForest

Gloria Tower

Melisa St. Jacques, Ashley Wilcox

Allison Rennell

Keith Davis

Andrew Hoar (NASC)

Terry Flynn (McCann)

Bruce Wallace (Theatrix)

Barbara Durrin (NASC)

Chris Gregory, Melissa McCarron,

Nikolai Rudd, Theresa Thomas,

Tech Director                 Matt Mangun

Musical Director

    Julianne Brazeau
Person in charge of everything in the whole world - Kerry Labendz (not to confuse her with the character called The Stage Manager)

Sherry Pikul and Caroline Green as the mothers

Sherry Pikul and Tim Mangun as the Gibbs

Ashley Wilcox as Rebecca Gibbs

Note that it may take a very

long time to download.

Our Town by Thornton Wilder

November 19 - 21, 1992

Tiffany Wilson as Emily Webb